Ivy of the Year 2016
Hedera helix 'Midas Touch'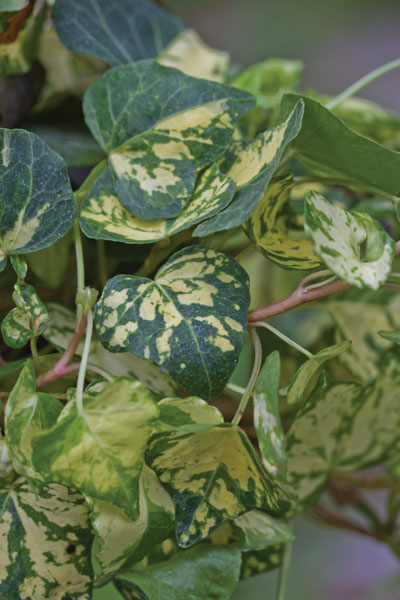 IVY OF THE YEAR 2016
Hedera helix 'Midas Touch'
The American Ivy Society has selected Hedera helix 'Midas Touch' as the ivy of the Year for 2016. It is a "Variegated" in the Pierot Classification System. This Beautiful Danish introduction was first imported to Great Britain in 1993 by the Frode Maegaard Hedera Nursery of Ringe, which listed it as 'Golden Kolibri', an unaccepted name under ICNCP rules which preclude prefixes to existing names, such as 'Kolibri'. Mr. Stephen Taffler of the British Ivy Society suggested the name 'Midas Touch', and a new ivy was named.
The leaves are heart-shaped to barely three lobed, with a cordate base. The color is bright gold to yellow, with a rich green margin and center splashes of green. The stems and petioles are pink. The pink and yellow colors deepen with cooler temperatures.
This ivy makes a beautiful house plant. While not as winter hardy as some, if planted outside, some extra protection may be needed. It also has a tendency to produce green leaved stems that should be removed.
The bold gold and green coloration of this ivy may not be to everyone's taste, but the outstanding combination is worth a try.
Click Here for Ivy of the Year List of Past Years.