The American Ivy Society is a non-profit organization
dedicated to preserving the genus
Hedera through education and promotion.
AIS News
Click here.


Support our Commercial Members


Journals 2001 - 2016
Click Here
From the
Royal Horticultural Society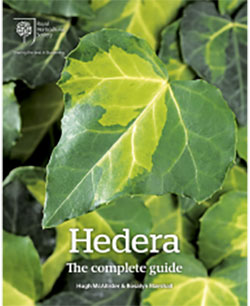 Hedera: The complete guide
by Hugh McAllister & Rosalyn Marshall
Royal Horticultural Society
2017; 432pp; £40
ISBN 9781907057731
The RHS Horticultural Monograph on all species and cultivars of ivy
The second in the new series of RHS Horticultural Monographs, Hedera: The complete guide, covers the surprisingly colourful diversity of ivy, from the 12 species to the extensive range of cultivars ideal for gardens and urban environments.
QUESTION AND ANSWERS
The American Ivy Society is happy to answer your questions about ivy.
Contact us at: info2@ivy.org
All E-mail questions are forwarded to one of your qualified members for response.
Our web site is updated regularly. Please check back often for more questions answered.